"To me, interpreting and translating means not only to transform words into another language, but also to convey the culture and to act interculturally" (Quote from an interpreter at the Language Clinic Augsburg)
---
The Law Clinic Augsburg has been offering legal advice for refugees since 2016. In a unique combination, the voluntary interpreters of the Language Clinic have been supporting the Law Clinic Augsburg since May of 2016. As clients come from many different countries, both the student advisors and interpreters must be culturally aware to avoid any misunderstandings.
Starting in the fall term of 2018/2019, the Law Clinic Augsburg has expanded its offer to include tenancy law, which also requires interpreters.
The Language Clinic supports its interpreters in their preparation for assignments.
A selection of training events aims to convey the foundations of migration and tenancy law. Important standards for projects are also covered to ensure the high quality of our translations. The Language Clinic also offers interesting lectures and workshops on a variety of relevant topics.
In addition, all interpreters are warmly invited to attend the series of lectures by the Law Clinic to learn more about the legal aspects.
Our work focuses on translating and interpreting at the following occasions:
preparing the refugee for court hearings, the big interview etc.
translation and proofreading of documents, presentations and flyers
presentations by the law clinic
regular open consultation hours at the reception center in Donauwörth
---
We Are Looking for Volunteer Interpreters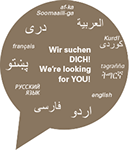 We're constantly looking for interpreters!
We're looking for motivated people to support our volunteer team and help us translate our consultations. Currently our focus is on
Turkish
Kurdish
Dari
Farsi
various African languages
Of course, any other language is also welcome!
---
What We Offer
We offer our interpreters a variety of different training opportunities to prepare them for their assignments. The training program consists of lectures, presentations and workshops on the following subjects:
Basics of Migration Law
Written translation and interpretation
Intercultural competence
The interpreters may obtain a certificate, attesting to their commitment to the Language Clinic Augsburg. The certificate describes their volunteer work and records their attendance at the training program.
To ensure ideal preparation and lasting learning, we strongly recommend taking part in the basic presentations at the start of every term. These are "Interpreting and translating for the Language Clinic Augsburg" as well as "Legal terms relating to the Asylum procedure" or "Legal terms relating to tenancy law". In addition, it is recommended that all interpreters take part in other lectures such as those offered by the Law Clinic.